Introduction 
Singer-actor Selena Gomez seems to be enjoying her success. She recently launched her skincare line called Rare Beauty. While she is enjoying all the creativity in her life, some fans started to wonder about the amount she charges per advertisement. 
More Info on the Breaking News 


Over the past decade, Selena Gomez has earned a name for herself. She started with being a Disney child actor to being one of the biggest singers in the industry. Then there's her relationship with Justin Bieber. Well, all of her hard work and success not only got her name and fame but a lot of cash as well. 
As of now, Gomez has 193 million followers on Instagram. And that makes a viral social celebrity and has the power to empower the masses. But that surely doesn't come easy. Reports suggest that her current net worth is $75 million. And that didn't only come from music and acting. 
Being a star with a huge fan following, she has done tons of advertisements with many brands. She has even partnered with multiple brands over the years. Given her huge following, it not uncommon to wonder about her charges for one Instagram post. 
Well, her charges per post is way too much to handle. As per reports, up till 2018, the Fetish singer used to charge $800,000 per Instagram post. Woah! Well, that's a lot of money. But being a singer and working so hard every day to the mass following with her music is incredible. And the amount may be justified. 
What's up with Selena Gomez These Days 
Selena Gomez was recently in the news after she called out Mark Zuckerberg. She recently shared a screenshot of her message to him. She had asked him that take down the "hate speeches" from both Facebook and Instagram.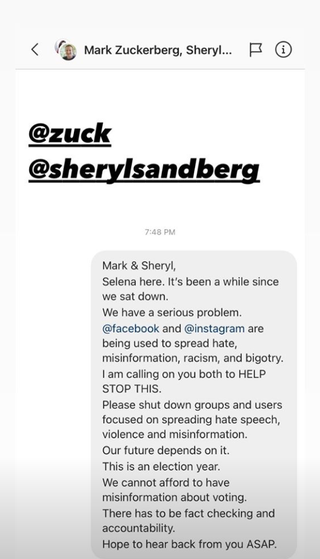 The Kill them with Kindness singer further said that both these platforms were being used to spread hate in various forms along with tons of misinformation. And this is the US election year; any kind of misinformation would not be right for the future. 
This move comes after Kim Kardashian revealed that she'd be freezing her account in protest against the hate speech on social media. 
Selena Gomez is a huge celebrity known all around the globe. She is the 6th highest followed person on Instagram. Money comes in handy.